Living abroad is not the only way to experience cross-cultural tension or understand the difficulties of meshing two worlds to solve a mutual problem.
Recently, I wrote about
what I believe makes a book good
. Here are the criteria against which I measure books and deem them worth reading:
Good books teach and entertain,
inspire and challenge,
wield the art of words,
and speak truth.
While there are doubtless more cross-cultural novels out there that meet these standards and are worth your reading, I haven't read them all. Here are four I recommend, and I'll tell you why.
1. The Poisonwood Bible by Barbara Kingsolver
Synopsis: A missionary family (husband and wife with 4 daughters) travel to the Congo to save and baptize the people. While there, they run into severe cultural differences, family struggles, and eventual tragedy and separation.
Cross-cultural aspect: This book isn't written in favor of missionaries but rather with a harsh stigma against them--the method and impracticality of their preaching. However, through their struggle, readers can identify these shortcomings as well as the positive relationships that are formed. While parts may offend, we should be offended. It stings to read something that offers a mirror of what misconceptions we have of mission work, culture, and effective integration.


2. A Passage to India by E.M. Forster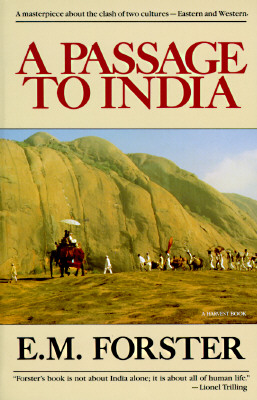 Synopsis: When an Indian man is accused of assaulting a white woman, the two cultures quickly divide and rally.
Cross-cultural aspect: This story is skillfully written to show both sides of the conflict, and readers see pride and error happening simultaneously. It also highlights the humility necessary to step outside of cultural safety to address truth.
Further reading
: I also recommend
Room with a a View
by E.M. Forster. This one displays the cultural differences between Americans and Europeans.


3. Caleb's Crossing by Geraldine Brooks
Synopsis
: Caleb was the first Native American to graduate from Harvard. This novel is a brilliant telling of his life with fiction filling in the unknown fragments.
Cross-cultural aspect
: It's fascinating to see how Caleb adjusts to life as white men live it. It's even more intriguing to see how others adapt to his inclusion. Like with
The
Poisonwood Bible
, there is a missionary father whose methods are near forceful, and such descriptions challenge us to define the role cultural sensitivity must play in gospel teaching.


4. Cry, the Beloved Country by Alan Paton
Synopsis
: The plot centers around a murder in South Africa, but its lyrical pages also sing of a cherished country--even as it seems overtaken by "white man's law"--and a persistent heart that beats for hope.
Cross-cultural aspect
: There is an obvious divide between the whites and blacks in this book, but the author shows each character as an individual. He shows how goodness isn't a country's trait but a person's choice. He fights for dignity and compassion with his words.
I hope these recommendations encourage you to explore other cultures (and cross-cultural conflicts). They are not easy reading, just as ours is not easy living. It's chafing to step outside of comfort and brush shoulders with differences. It's humbling to see our faults and recognize our prejudices. But it's good to realize when our culture-bred beliefs are wrong and when we need a broader vision of the world.
Abide in Him,
Have you read these books as well? What did you like/dislike about them?
Do you have another cross-cultural novel to recommend?
I
f you'd like to read more of my reviews, you're welcomed to follow me on Goodreads.
Related articles that you may also appreciate:
God Is Not an American
5 Picture Books for TCKs
People Are People Everywhere