The Expat Exodus
June is a hard month for those in international settings. It's a time when people "move on" or "move back," and it's full of hard goodbyes. Here are a few articles I've read this week that have helped me with the transition. Even though I'm staying put, it's hard to see others leave.
When Friends Do the Next Right Thing
by Elizabeth Trotter at
A Life Overseas
Staying Well: 10 tips for expats who are left behind
by Jerry Jones at
The Culture Blend
Leaving Well: 10 tips for repatriating with dignity
by Jerry Jones at
The Culture Blend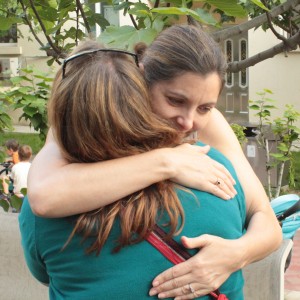 The Good and Bad of Short Term Mission Trips
I loved reading the perspective of this teenager who saw teams come and go from his orphanage in Kenya.
The Good Missionary
by Samuel Ikua Gachagua and Claire Diaz-Ortiz at
Christianity Today
A Cartoon Book of the World
I couldn't believe it when I found Mo Willems in the biography section of the library. If you have young kids, you probably know Mo from his
Elephant and Piggie
series or his pigeon books or his Knuffle Bunny works. But there he was--alongside biographies of much older people. It's a cartoon book of his backpacker year around the world, and even as a young man fresh out of college, he was amazingly perceptive. It was a fun book to read! Maybe look for it at your library?
You Can Never Find a Rickshaw When It Monsoons
by Mo Willems
Here: At Home
Because it's June and because I'll be saying goodbye to some amazing friends in a few short days, I wrote a letter to my repatriating sisters. As hard as it is, though, I'm thankful. I'm so thankful that I've had these friendships that have helped make my overseas life beautiful.
Deep Friendships Are Worth Hard Goodbyes
--------------------
Did you enjoy this week's recommendations? You're invited to check back each weekend to see
more of the good stuff
out there brought here. I do my best to keep it relevant to women in cross-cultural situations too. If you think you might forget to stop by, you can subscribe by email (in the sidebar), or follow on
Facebook
,
Google+
,
Pinterest
or
Twitter
.